Hacienda in San Jose, Costa Rica
We flew from Florence, Italy to San Jose, Costa Rica via Madrid in November. As we had booked a week in the Manuel Antonio area and it was about a 3 hour drive from San Jose, we decided to stay locally for a night on either end of the week-long stay. We chose the Hacienda Belen property in part because of its proximity to the airport, but more so because of the open air, old world feel of this hotel. We were not disappointed.
The Arrival
We arrived at Hacienda Belen after a couple of hours in line for immigration at the airport, and then no shuttle or taxi available when we arrived, despite reserving through the hotel in advance. We were exhausted at this point after nearly 24 hours of travel, so we were glad to finally get to the hotel. We ended up arriving via a shared shuttle, but at that point, we just wanted to get there.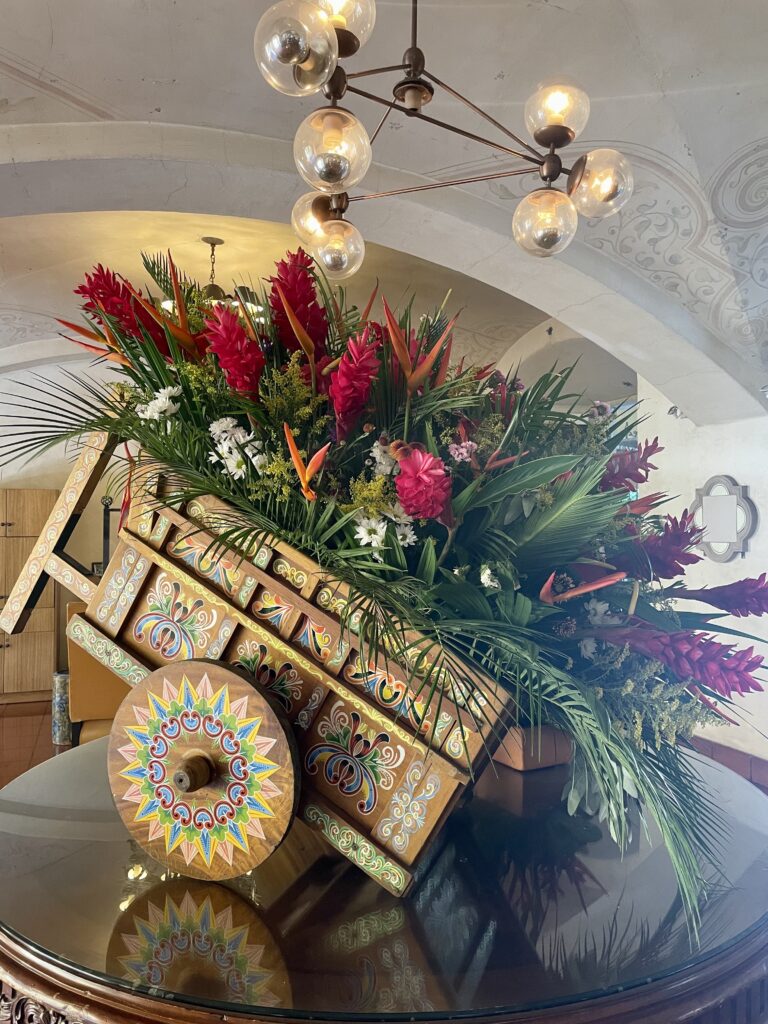 The Check-In
We used a suite night award for both the first and last night reservation, and both were accepted. We also realized that with the room upgrade came a $60 resort credit, which was a real value considering we had barely paid double that for the room.
The Room
Our upgraded room included 2 bathrooms on the first night and was a bit more upgraded. The second night included 1.5 baths, but wasn't quite as nice as the first room.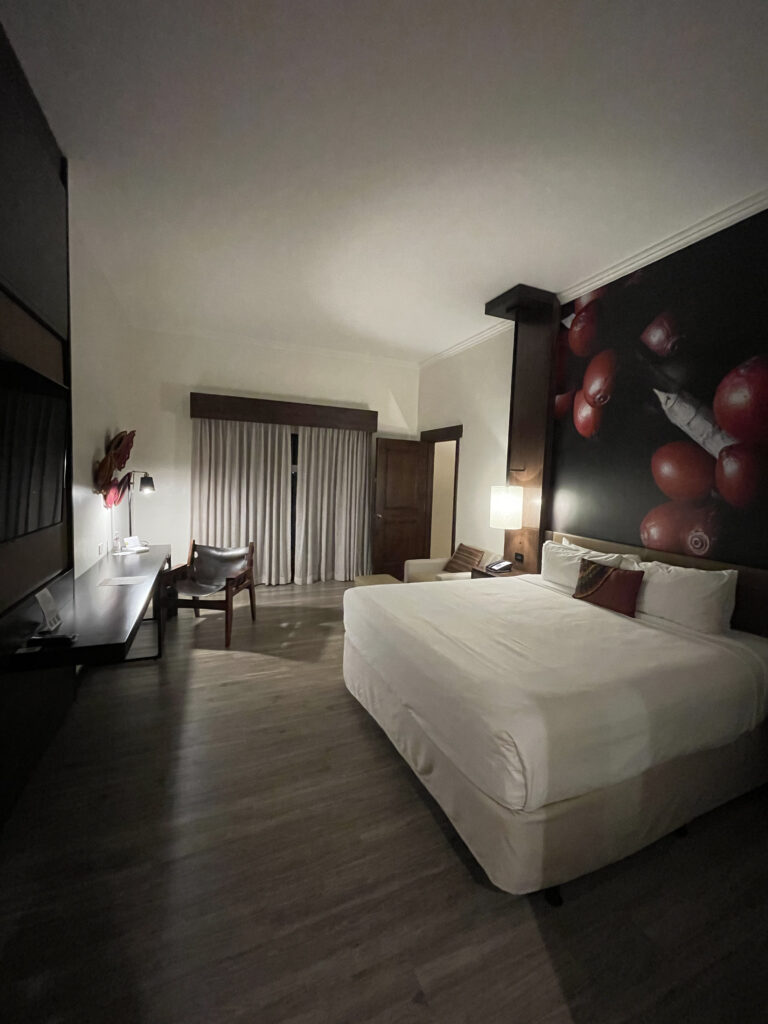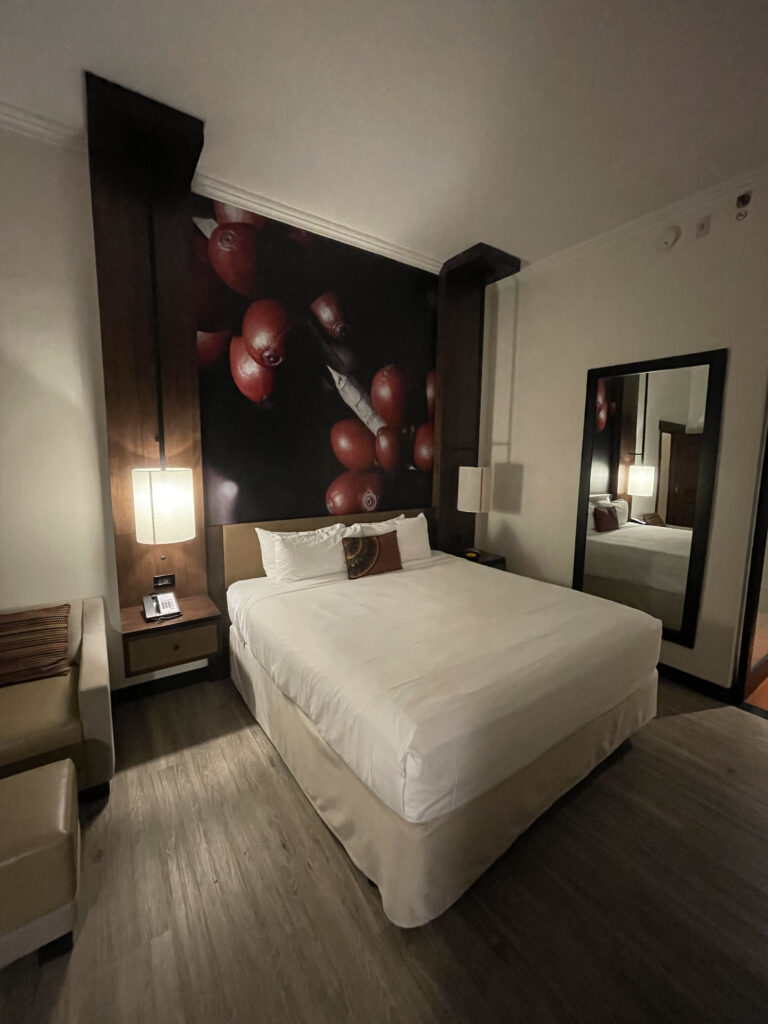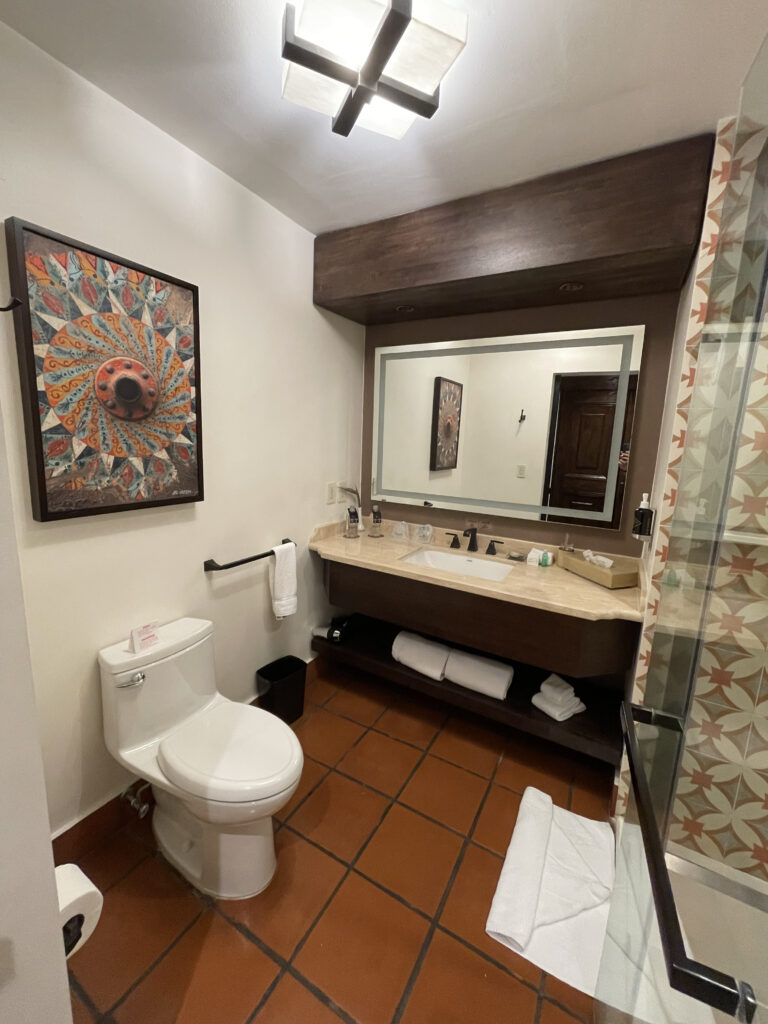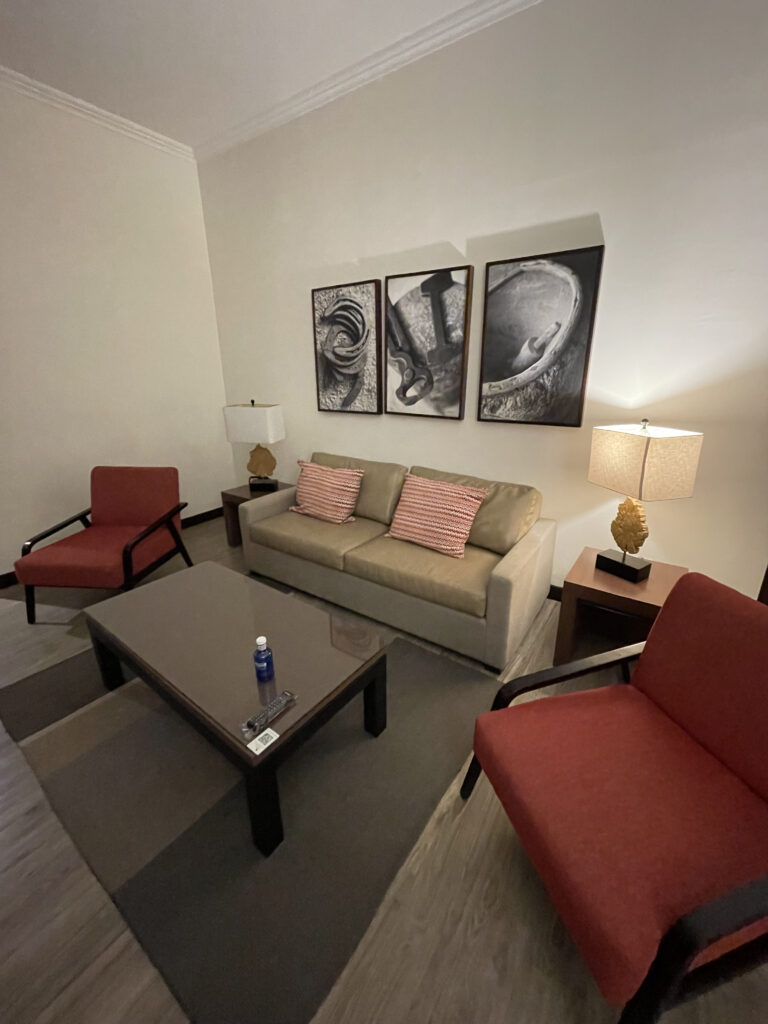 The Points
We didn't use points for this reservation, but it would have been 30,000, which was a good value for this property after rates had more than doubled in the months after we booked.
The Food
We ordered room service for dinner the first night using the resort credit and the food was good. We didn't quite understand how the prices added up given what was on the menu and what we were charged, but we didn't bring it up since the resort credit covered most of the cost.
We ate breakfast at the hotel both mornings, and there were a number of good options including traditional breakfast foods and local specialties. We also enjoyed a selection of fresh fruit (including mango, my favorite!) There was a bit of confusion with the breakfast, as we should have received an upgraded breakfast option choosing from the menu, while our travel companions had the buffet included. This wasn't well-explained, and it seemed like we were somewhat pushed into the buffet option. The first time around, the breakfast of our companions was no cost, and we felt that was a kind perk from the server. As it turns out, breakfast should have been included staying at the hotel. On the last day when they attempted to charge us more than the cost of our breakfast voucher for the companion's breakfast , we were confused. As it turns out, from a price perspective, they were treating them like they came in off the street rather than guests at the hotel. Regardless, the breakfast was good, but more care could have been made to explain what was covered or what was not.
We also ate dinner at the same restaurant on our last night, and it was enjoyable. The food and wine were good and reasonably priced. We had a mix of foods – everything from local rice and beans combos to a cheeseburger. The following day before check-out, we ate outside at the bar and enjoyed a couple of mixed drinks, tacos and guacamole, and were pleased with everything.
The Location
The location was supposed to be about a fifteen minute drive from the airport, but with traffic, unfortunately that did not prove to be true. It's a good location compared to alternatives, but be prepared that depending on the time of day, it could take quite a long time to get where you're going. The Sunday we left, luckily traffic wasn't bad, but Friday evening it was terrible.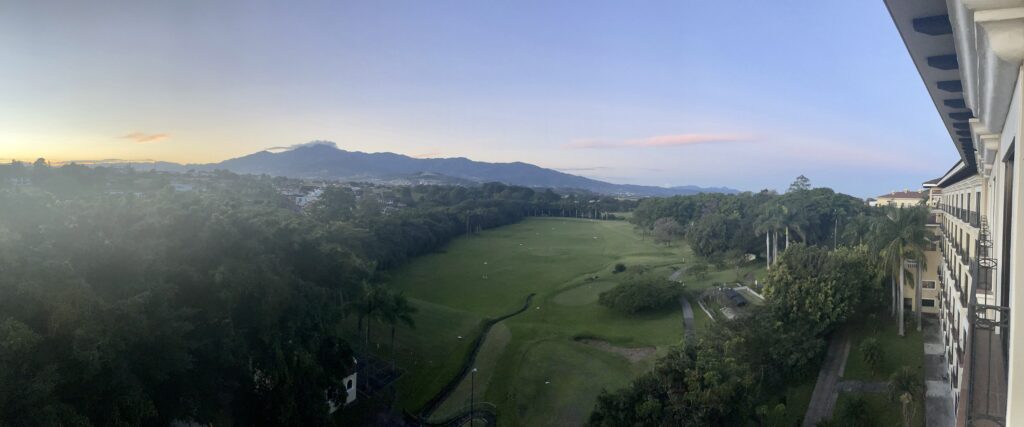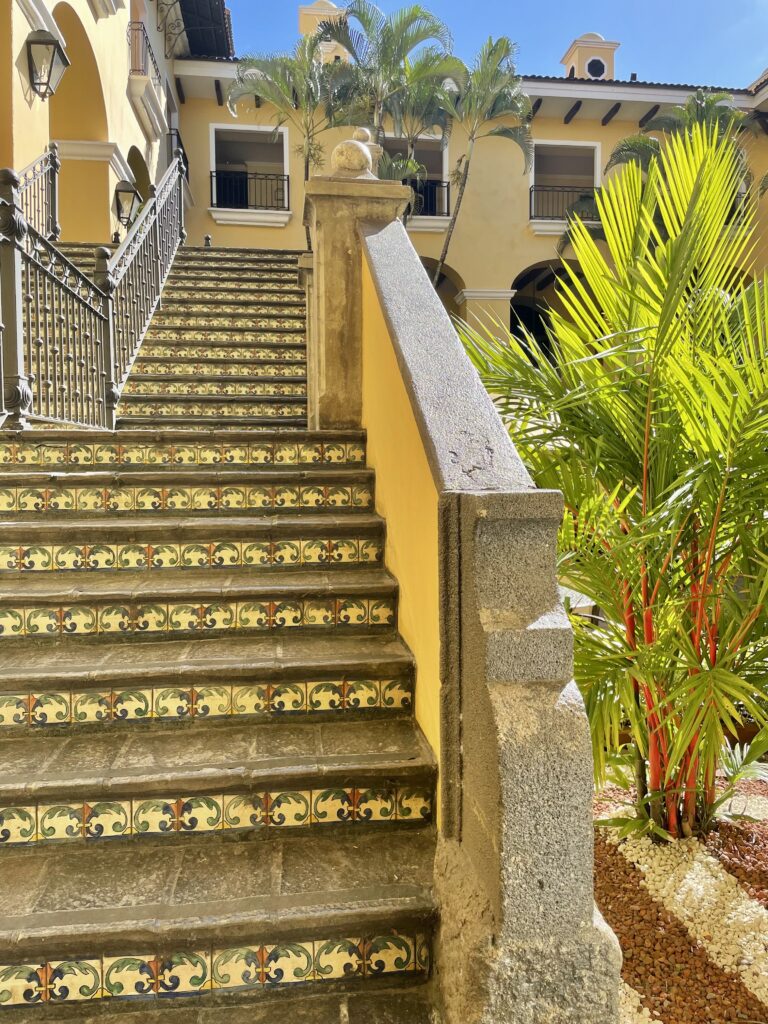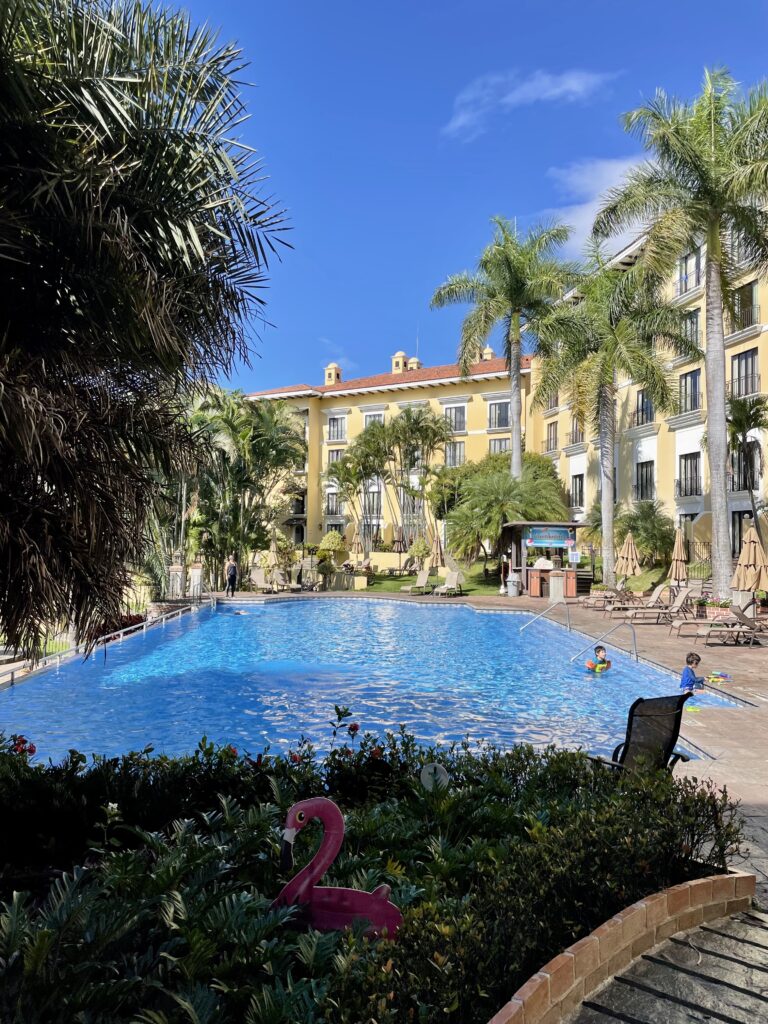 The Wrap-Up
Overall we were pleased with the hotel and would stay there again. Upgrading the room with suite night awards and then receiving a $60 resort credit was well worth it, and certainly a nice perk. We would consider looking at the other options in San Jose if we return to the area, but I would be happy to visit Hacienda Belen again as well.
Interested in reviews for Costa Rica Marriott Hotel Hacienda Belen?